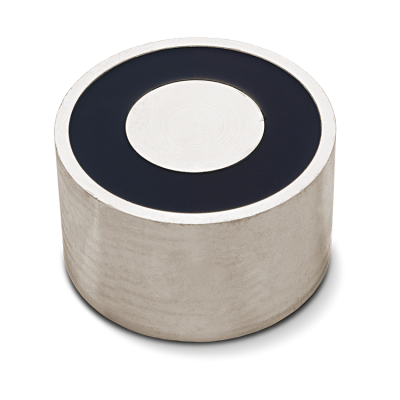 Definiton permanent electromagnets
These are high-quality holding magnets that normally cultivate their holding force without a current. The magnetism is neutralised via energisation.
Besonderheiten und Anwendungsbereiche
Permanentelektromagnete haben immer eine Einschaltdauer von 10 % sind somit für speziell für sogenannte Auslöseprozesse geeignet. Permanentelektromagnete werden speziell für Sonderlösungen eingesetzt, in denen keine fixe Stromquelle existiert.
Als Beispiel für die Anwendung eines Permanentelektromagnets sind die Verriegelungsmechanismen an großen Industriemaschinen zu erwähnen, die auch bei Stromausfall die gefährlichen Bereiche nicht freigeben.
Permanentelektromagnete sind wie auch die Elektromagnete generell in magnetischem Edelstahl erhältlich. Wenn Sie Bedarf an Sonderanfertigungen haben, fragen Sie uns!